How To Watch UKTV Abroad: The No-Nonsense Guide for 2023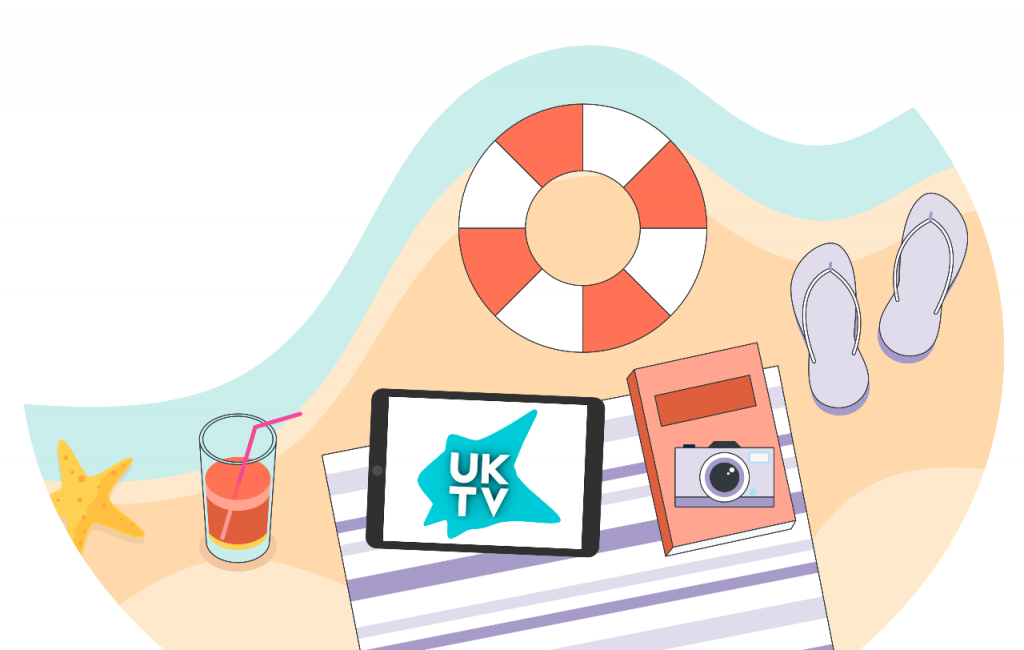 Traveling outside the UK? Ready to settle down and catch-up with your favourite show on Dave? Your device is ready, the UKTV app is downloaded and you press play. But instead of a classic episode of Eastenders you get a message telling you you're not able to access the service while you're abroad.
In this 10 minute guide we'll show you how to get rid of that message by unblocking UKTV, wherever you currently are.
UKTV
UKTV Play is the streaming service for UKTV. It's what you need if you want to catch-up on a classic episode of Eastenders or The Bill, check out Abandoned Engineering or one of the many comedy shows. All you need to do is register on the website and away you go. Apps are available for mobile and streaming devices, but you'll still need to register on the website.
Dave, Yesterday and Drama area available for free and the other UKTV channels as part of a subscription. It means classic UK shows like Holby City, Red Dwarf and New Tricks are all available when you're ready to binge.
Why am I Geo-blocked?
Geo-blocking just means that a service is limited to a specific location due to licensing and rights. So, for UKTV it means that they are limited to broadcasting in the UK and when you're abroad you can no longer watch your favourite programs - unless you have something called a VPN.
A VPN is a piece of software that makes it possible to catch up with Kavanagh or log in to Lovejoy whether you're in the UK or anywhere else. Vacation on Tenerife? Working in the States? Take UKTV with you by using a VPN. And in this article, we will show you how.
What is a VPN?
Virtual Private Networks or VPN's have been around for a long time. These days, they are mostly used to increase your privacy while going online and for bypassing geoblocks used by different streaming services. Using a VPN, you can hide your information from the rest of the web. This includes your location. Using a VPN app you can move your digital location to another country, making streaming services (such as UKTV, BBC iPlayer, ITV etc.) believe you are back in your couch at home, in the UK.
How do they do this? VPN providers have servers in countries all around the globe. By using a VPN app, you can redirect the traffic that's usually going directly from your device to the streaming service (UKTV in this case) through one of these servers. So instead of seeing your location and blocking the content, UKTV will see the location of the VPN server.
A quick search on google shows that many companies offer VPN services and that pretty much all have servers in the UK. Many of them are safe, reliable and reasonably priced but unfortunately, most are blocked by the streaming services. We've tested a couple of the more popular ones that do work - use one of these and you'll be watching UKTV in no time at all.
Try our #1 rated VPN now
30-day money-back guarantee
Step-by-step: how to watch UKTV Outside the UK using a VPN
1. Get the UKTV apps
This step is easy and free. Click the link here to register on the UKTV website or you can download the apps from Apple (iPhone / iPad) or Google (Android). If you don't have an account, you'll need to register on their website and if you're using a mobile device you'll need to register that too.
2. Sign up for a VPN subscription
As we mentioned, there are a lot of VPN providers and some are better than others. Most do not even work with the popular streaming services (Netflix is notoriously famous for blocking VPNs). So, we tested them to find out which ones are smoothest and actually work for UKTV, which have the best reliability and what their customer service was like.
Each of the recommended VPN providers will offer different subscription lengths. This is so you can decide how long you need a VPN for. Is it just for the time you're abroad? Do you live full time in Spain or France? Or would you like to access TV from all over the globe when you get back home?
3. Set up the VPN
Once you've signed up for a VPN, you just need their software on your devices (they all have apps for PC/Mac, iPhone, iPad and Android).
All our recommended VPN's offer straightforward software and easy to follow instructions.:
Get the app
With the details you used to register, sign in.
In the app you'll find a list of servers to choose from (or a map). Choose one in the UK.
To UKTV it now appears you're back in the UK.
Done! UKTV is now unblocked. What's it to be? Classics from UK TV history or a comedy special. You decide!
(And, when you've had enough of that, you can take a look at all the other streaming possibilities now open to you thanks to your VPN)
---
Frequently Asked Questions
Can I use the VPN to unblock other streaming services?
Absolutely! That's the beauty of a VPN. Stream from any country your provider has a server in. Using ExpressVPN you can stream not only Now TV but also: ITV, Sky Go, Channel 5, BBC iPlayer, over 15 Netflix regions (including the UK), Hulu, Disney+, Amazon Prime Video, HBO, Hotstar and many, many more.
Can I access UKTV without registering?
No, in order to watch UKTV you'll need an account. Luckily, for Dave, Yesterday and Drama it's free.
Is watching UKTV using a VPN illegal?
No. But it does violate UKTV's terms and conditions that will only let you watch in the UK. So, if you decide to use a VPN, it's at your own risk.
Can I use a free VPN with UKTV?
You could try. However, we haven't found one that meets our needs:
Offer consistently good service
Allow you to unblock all the major channels
Aren't a security risk. – Free services have a history of selling your information (they have to make money somehow right?)
Have decent customer service
But, if you come across a reliable one, please let us know and we'll add it to our list.
What VPN do you recommend for watching UKTV?
ExpressVPN is the VPN that we recommend for streaming UKTV. Other good options are Surfshark and NordVPN.
All three offer a good service with fast and reliable connections and helpful customer service and all three provide a money back 30-day guarantee but ExpressVPN is currently offering 3 extra months free - click here to check it out.
ExpressVPN - Get 3 extra months FREE
30-day money-back guarantee