How To Watch BBC iPlayer Abroad: The No-Nonsense Guide for 2022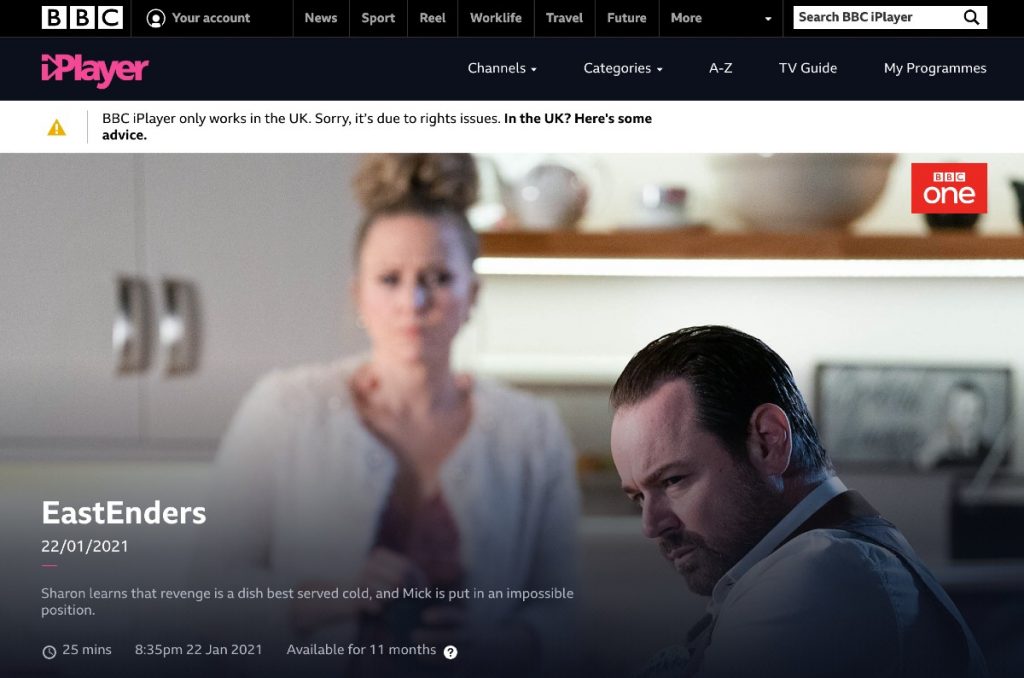 As you might know, BBC iPlayer only works if you're in the UK and trying to access the app or site from abroad results in a black screen and a friendly message letting you know that unfortunately, TV night has been cancelled. The reason is programme licensing rights are limited to geographical areas, so even if you're a resident of the United Kingdom and pay the TV license, you won't have access to iPlayer when you're out of the country. In the streaming industry this is called geo-blocking and most video streaming services do this one way or another.
In this 10 minute guide we'll show you how to unblock BBC iPlayer and regain access to all of your favourite TV programmes even when you're outside the UK. Let's get started.
Don't have time to read the article?
Here's a super quick summary of what you need to do to get your favourite streaming service working from abroad.
Register with a VPN service that will make it look like you are connecting from the UK. Not all work with UK streaming services but we have tested most and recommend one of the following:

ExpressVPN (click to see price)

Surfshark (click to see price)

NordVPN (click to see price)


Download the app for the VPN of your choice, login and use it to switch your "Internet country" to the UK.
Done! You can now watch UK TV channels and use your streaming services from anywhere in the world. You can also use the VPN to, for example, access more Netflix regions, unlock Amazon Prime Video content and watch many local streaming services.
Going for a short holiday? Use BBC iPlayer Downloads on your computer or the iPlayer app on your mobile device.
If you only plan to be away for a short period of time there's a free and easy way to keep your BBC iPlayer access. On your computer you can use the official BBC iPlayer Downloads app that lets you download programmes from the BBC iPlayer website to your computer for later viewing.
On your phone or tablet you don't have to do anything extra since the BBC iPlayer app already has all download functionality built in. Just tap "Download" underneath the episode you want to download, wait for the download to finish and that's it.
Neither of the above will work for live programming or episodes released after you've left the country. For this you will need something called a VPN.
Longer holiday or living outside the UK? Use a VPN to unblock BBC iPlayer.
There's a simple way to work around the BBC iPlayer geo-block. Using a VPN service - software that lets you change your internet address to a server in another location - you can make it look like you are connecting from a different country, thus "unblocking" geo-blocked streaming services. The VPN does this by having servers all across the globe (including the UK) and acting as a middleman between your device and the site or service you are trying to reach. As you can imagine this can be very useful if, for example, you are currently abroad but want it to appear to the BBC that you're surfing from home. Let's take a look at how to set everything up - it's easy.
Step-by-step: how to watch BBC iPlayer if you're outside the UK
1. Register for a free BBC iPlayer account
This step is pretty straightforward, just fill out the form on the BBC website: https://account.bbc.com/register/. You will need a valid UK postcode to be able to complete registration (for example SW1A 1AA or M16 0RA). After you've registered, the BBC will send you an email with a validation link that you will have to click before you can log in on their site.
2. Sign up for a VPN service subscription
Not all VPN services play nice with iPlayer since the Beeb actively tries to prevent people from bypassing their geo-block. Out of the VPN services that we have tested, we recommend the following that all work with iPlayer:

ExpressVPN
Slightly more expensive than the other two but considered the "premium option". The speeds are comparable to NordVPN (that is: really fast) but they have servers available in more countries so it opens up more geo-blocked streaming services. Allows 5 simultaneous connections.
Click here to unblock BBC iPlayer using ExpressVPN

Surfshark
The cheapest option at just below £2 per month (if you go for an annual subscription). They have a very easy to use application and support unblocking of a lot of streaming services including BBC iPlayer. You can stream on an unlimited number of devices, a feature we really liked since it makes it easy to share with family members.
Click here to unblock BBC iPlayer using Surfshark

NordVPN
One of the most popular and reliable VPN companies out there and also quite cheap if you go for the longer plans. NordVPN works with iPlayer and also unblocks a couple more streaming services than Surfshark (ABC and Eleven Sports for example). Allows 6 simultaneous connections.
Click here to unblock BBC iPlayer using NordVPN
Which one to choose? If all you do is stream, our recommendation is Surfshark. The price combined with the fact that they allow unlimited simultaneous connections is what makes them take the #1 spot for us. In either case, all of the above mentioned VPN companies give a 30 day money back guarantee so you can try them risk free before deciding which one suits you best.
3. Set up the VPN on your computer, phone and/or tablet
Once you've signed up for a VPN, you will need to download their software onto your computer, phone or tablet. The applications for the above mentioned VPNs are all very easy to use: you log in with your account, pick the UK from a list or a map and select connect.
4. Done! BBC iPlayer is now unblocked.
Once connected, you should be able to watch BBC iPlayer from anywhere in the world.
Frequently Asked Questions
What VPN do you recommend for watching BBC iPlayer abroad?
We've tested many VPN services and for streaming and BBC iPlayer we generally recommend one of the following: Surfshark, NordVPN or ExpressVPN. They all provide very easy to use applications (you basically just click a country on a map and you're connected) and great customer support. They also all provide a money back guarantee that lets you try for 30 days risk free.
Can I use the VPN also to unblock other streaming services?
Yes. Having a VPN service subscription is great value for money since it opens up access and unblocks so many streaming services. For about £2 per month (with Surfshark) you will be able to stream not only BBC iPlayer but also: ITV, Sky Go, Channel 4, Channel 5, over 15 Netflix regions (including the UK), Hulu, Disney+, Amazon Prime Video, HBO, Hotstar and a ton of local ones.
Can I use BBC iPlayer without a TV license?
Yes. You're not supposed to do it, but the BBC doesn't actually check if you have a license or not. Just answer "Yes I have a license" when the question pops up and it will let you continue to the stream.
Can I use a free VPN with BBC iPlayer?
In theory yes but we have yet to find a free VPN service that works with BBC iPlayer. Free VPNs can also be a security risk. If you come across a reliable one, feel free to get in touch to let us know about it and we'll add it to our list.
Is watching BBC iPlayer using a VPN illegal?
No, of course not. It is against the BBC terms and conditions though so if you decide to use a VPN you do so at your own risk.