How To Watch ITV Abroad: The No-Nonsense Guide for 2023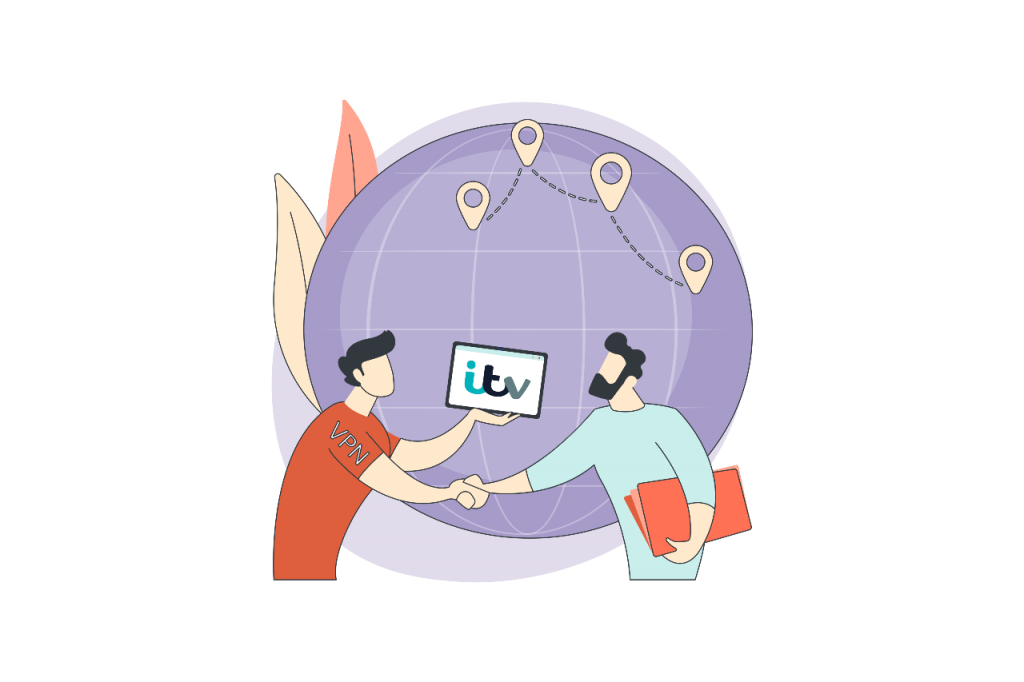 While we all cherish holidays in the sun, there's one frustrating reality that threatens to mar this delightful image: the inevitable disappointment of missing the latest episode of Coronation Street. You've been there before; instead of catching up on Corrie, a message flashes across the screen, reminding you that you are not currently located in the UK.
In this 10 minute guide we'll show you how to unblock ITV's streaming service ITVX (formerly known as ITV Hub), and show you how to catch up with all your favourites, from anywhere.
ITVX
ITVX is the streaming service for all things ITV. So, if you want to see Love Island, X-Factor, or I'm a Celebrity, this is the service you need. Almost everything available from ITV is on demand here, so that includes ITV, ITV 2, ITV 3, ITV 4, CITV and ITV Be.
Live streaming is also possible so if you want to catch up with Britain's Got Talent in real-time you can. Although there are always adverts before you start the stream.
If you would like to download shows to watch later, then you'll need an ITVX Premium subscription and an iPhone. The subscription (£5.99/month or £59.99/year) also means you can watch all your favourites ad free.
What is Geo-blocking?
TV broadcasters are location based and licensed. So, if you live in the UK, but are out of the country, you won't be able to watch ITV until you get back home—unless you have a VPN.
Yes! It is possible to catch the latest drama from Manchester no matter where you are. And in this article, we will show you how to do it. Want to watch ITV on holiday? Let's go!
What is a VPN?
VPN stands for Virtual Private Network, and using one is a way to hide your location and increase your privacy. A VPN masks your computer from the internet, protecting your information by disguising where you're connecting from, and keeping your location hidden from the websites you use.
There are a lot of companies offering VPN services. Most of them provide quality service and reliable access. By using a reputable VPN provider, your computer is hidden from the world. You can use the VPN to fool a geo-blocked service into thinking you're somewhere you're not. Like still being in the UK, when in fact you're enjoying the sunshine and relaxing by the pool. And now you can even watch your favourite soap.
Try our #1 rated VPN now
30-day money-back guarantee
Not in the UK? Unblock ITVX with a VPN
By signing up with a VPN provider you can use their servers to talk to the internet. By using the app they provide, you can change your internet address to another country. So, when you feel the need to see the latest ITV drama, you can.
Just use your VPN app to select a server in the UK. And now it appears to ITV, and any other website you access, that you're in the UK. ITVX is available, and you can watch any ITV Channel you wish.
Normally, when you access the web your internet address is shown to the website or service you're using. This makes it easy for ITVX to see you're not in the UK. VPN companies operate servers all over the world, and you can use these servers as your location instead.
A VPN acts as middle ground between you and, in this case, the ITVX server. ITVX checks your address and sees the VPN server is in the UK, and therefore thinks you are too.
Step-by-step: how to watch ITVX if you're outside the UK
1. Get ITVX
Just go here: ITVX - or download the app in the Apple or Google Play stores.
If you've got an account, just sign in. If not, you'll need to register. You can't access ITVX without an account. And remember, to get an account you'll need a valid UK postcode.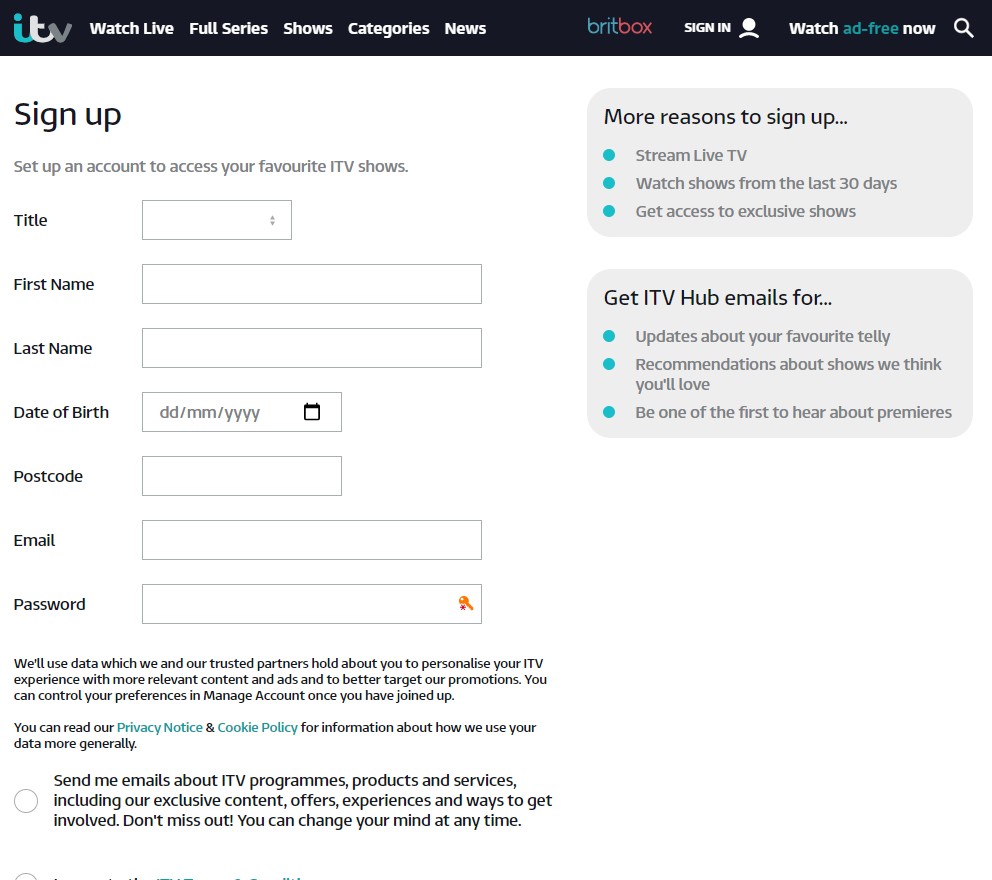 2. Sign up for a VPN subscription
There are dozens of VPN services, most of them are OK, one or two are dodgy, and a few are great. So that you don't have to discover which is which by yourself, we tested them for you. Not all VPN services will allow you to stream ITV because the broadcasters try to stop them. That's why you need a good VPN provider with lots of servers.
The best services provide multiple subscription lengths and most have a 30 day money back guarantee. That way, you can decide on whether your VPN is just for the holidays or you want to keep it and access the world's best TV while you're in the UK.
A VPN can be just as useful when you're at home because you can use it to access TV from all over the world (such as watching American Netflix) without going outside your own front door.
---
Frequently Asked Questions
Can I use the VPN to unblock other streaming services?
Yes, you can! VPN providers have servers all over the world so you can stream TV from any country. Using our top recommendation ExpressVPN you can access not only ITV but also All4, Sky Go, Channel 5, BBC iPlayer, over 15 Netflix regions (including the UK), Hulu, Disney+, Amazon Prime Video, HBO, Hotstar and many, many more.
Can I access ITVX without a UK address?
Yes. You will be asked for a valid UK postcode. As long as you provide one, ITVX will let you continue.
Is watching ITV using a VPN illegal?
No, of course not. But if you decide to use a VPN for streaming it is at your own risk. Most broadcasters say it is against their terms and conditions.
Can I use a free VPN with ITV?
Theoretically, but we have searched for reliable free services without luck. We haven't found any that meet our criteria:
Offer consistently good service
Allow you to unblock all the major channels
Aren't a security risk. – Free services have a history of selling your information (they have to make money somehow right?)
Have decent customer service
But, if you come across a reliable one, please let us know and we'll add it to our list.
What VPN do you recommend for watching ITV?
For streaming ITVX our main recommendation is ExpressVPN. Other good options are Surfshark and NordVPN.
Our investigations have proven all three have good subscription options, great customer service and are straightforward to use. And as a bonus, they all provide a money back 30-day guarantee.
Right now, you can get 3 months extra FREE if you sign up for a 12-month plan at ExpressVPN. Click here to check it out!
ExpressVPN - Get 3 extra months FREE
30-day money-back guarantee